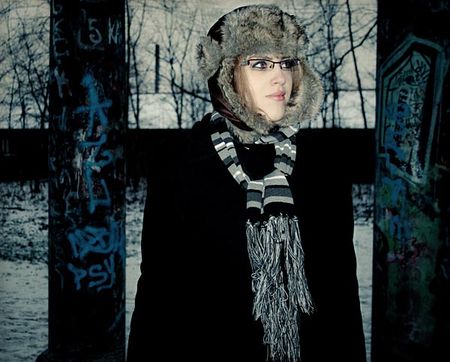 Sosnowiec-Pologne-12/2009- Photo:Olivier Daaram Jollant©

- Marta sous la voute d'un temple à colonnes où les étudiants aiment à se retrouver. Ce jour là il neigeait et la température était de - 15°C.

- Marta, ma bien aimée est née à Sosnowiec et y a vécue très longtemps. Nous nous y rendons tous les deux à trois mois pour visiter sa famille et c'est la raison pour laquelle je prends et montre autant de photos de cette ville Polonaise et de cette région.

-------------

- Marta under the arch of a temple with columns where students like to meet. That day it was snowing and the temperature was - 15°C.

- Marta, my beloved was born in Sosnowiec and has been living there during a long time. We are coming back there every 2 or 3 months to visit her family and that's the reason why I'm taking and showing so many pictures of this Polish town in this area.

© Olivier Daaram Jollant 2009.
Tous droits réservés. Ne pas utiliser ou reproduire sans permission écrite.